MOLECULAR ONCOLOGY, COLORECTAL CANCER, GENETICS, CLINICAL TRIALS, MOUSE MODELS, PATIENTS, THERAPIES, REGORAFENIB, TAS102, PREDICTIVE BIOMARKER SIGNATURES, CLINICAL IMPLEMENTATION, MICRORNA PREDICTORS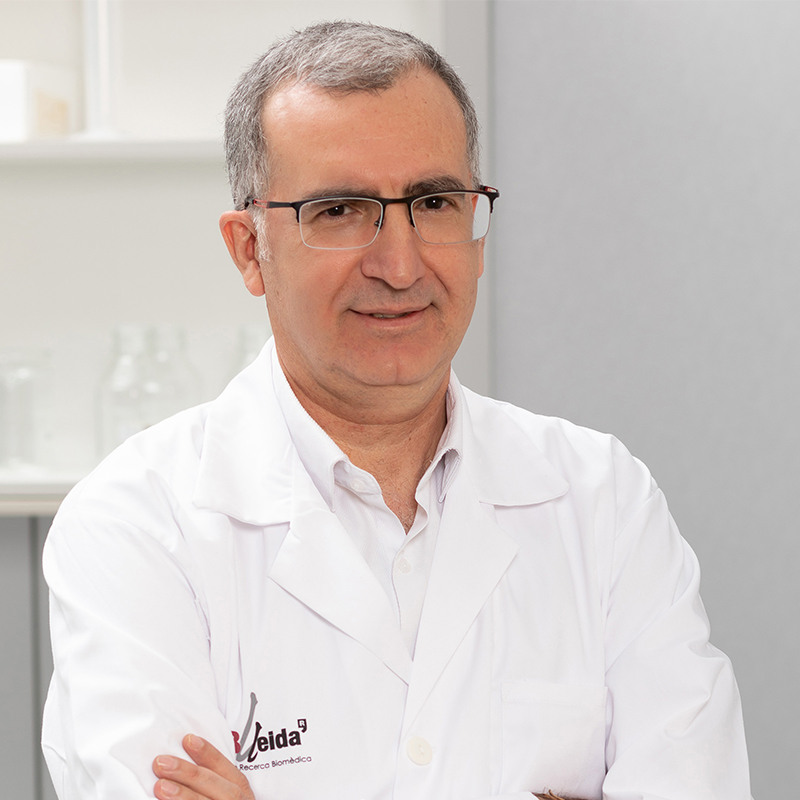 DR. DIEGO ARANGO DEL CORRO
Supervisor
Dr. Diego Arango is the current director of the Lleida Biomedical Research Institute (IRBLLeida). He leads a well consolidated research group of more than 15 years, which is the Molecular Oncology Laboratory at the IRBLleida. He established the group in 2005 at Vall d'Hebron Research Institute (VHIR) after his postdoctoral fellowship at the Albert Einstein Cancer Center in New York (USA) and at the Center of Excellence in Cancer Genetics, Biomedicum Helsinki, University of Helsinki (Finland). In 2016, Dr. Diego Arango was appointed Coordinator of the Oncology Program at the Vall d'Hebron Research Institute, and in 2020 director of the Lleida Biomedical Research Institute (IRBLleida) where the group is currently settled. Dr. Arango has published more than 88 articles, holds 4 patents, has supervised 11 theses, is reviewer of 54 international journals and of 14 national and international funding agencies. He has a H index of 40.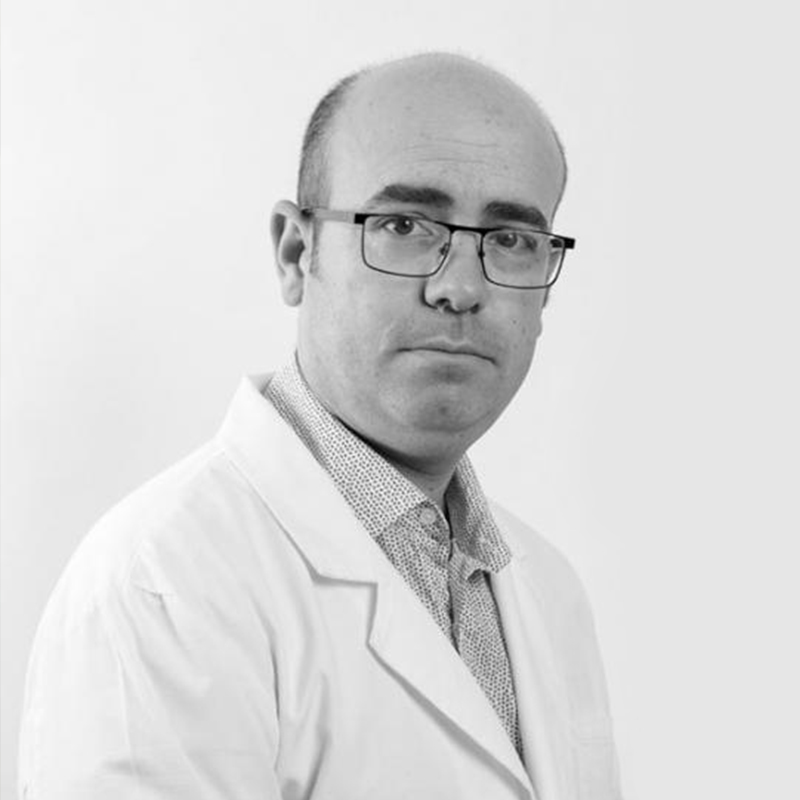 DR. MIGUEL F. SEGURA
Co-Supervisor
Dr. Miguel F Segura is head of the laboratory of Neural Tumors at Vall d'Hebron Institut de Recerca (VHIR).  He got his PhD in molecular neurobiology at UdL and joined the Department of Pathology at the New York University School of Medicine (USA) for 5 years. In 2021 he established his own group at VHIR, the Neural Tumors Laboratory to apply his scientific knowledge to the field of pediatric cancer, a topic with clear disadvantages compared to adult tumors and in the need for new therapeutic approaches. He has a vast experience in oncology clinical research using biomarkers (specially microRNAs) as diagnostic, prognostic and therapeutic tools in cancer. He will provide a valuable insight in the use of non-coding biomarkers in colorectal cancer. MicroRNAs are recently found to be deregulated in different human cancers and that miRNA deregulation may be contributing to the chemoresistance, representing its restoration an attractive novel therapeutic approach. He has more than 142 publications on the topic, leading several projects and collaborations with biotech companies.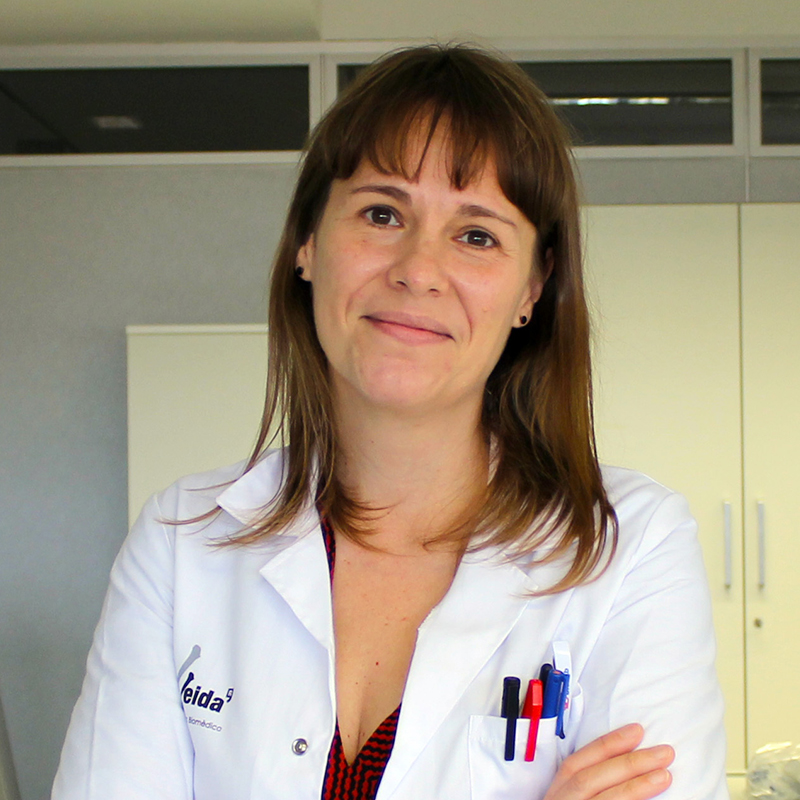 DR. AGUEDA MARTINEZ BARRIOCANAL
Co-Supervisor
Dr. Agueda Matinez holds 20 years of experience in research in basic and translational research conducted nationally and internationally: Department of Experimental and Health Sciences of the Universitat Pompeu Fabra; Ludwing Institute for Cancer Research (Melbourne, Australia), Vall Hebron Research Institute (VHIR) and Vall Hebron Institute of Oncology (VHIO). Dr. Martinez has published 18 articles, holds 1 patent, has supervised 4 theses, and she is reviewer of 2 national and international funding agencies and 17 international journals, being coordinating and reviewer editor in 3 of them. Dr. Martinez has a strong experience in transferring research to clinical practice. She has conducted multiple preclinical studies with pharmaceutical and biotech companies (Synthon, GamaMabs, Fundación Medina, Celgene, Novartis, Roche…). Some of that work has been related to the development of T-cell bispecific antibodies (TCB) against p95HER2 in breast cancer and CEA in colon cancer. Other contributions have been in drug repurposing and allowance by the European Medicines Agency.
The Molecular Oncology group was constituted in 2005 as the Group of Biomedical Research in Tumors of the Digestive Tract, and currently develops its research at Lleida Biomedical Research Institute (IRBLleida).
The group works on two main research lines. The first one is the study of the molecular events underlying the oncogenic process, especially in colorectal and gastric cancer, and more recently in head and neck cancer. Gaining a deeper understanding of the molecular mechanisms responsible for the tumorigenic process is essential to improve diagnosis and find new treatments that could be available to patients in the near future. The second line of research focuses on identifying groups of colorectal cancer patients most likely to respond to the different therapies available in clinical practice.
The group conducts research using colorectal cancer cell lines, mouse models and samples from patients recruited in clinical trials such as the Phase III clinical trials that allowed the approval of regorafenib and TAS102 by FDA and EMA regulatory agencies. Specifically for the current project, we have samples for colorectal cancer patients treated with regorafenib in the CORRECT and REARRANGE clinical trials, and patients treated with TAS102 in the RECOURSE clinical trial.
We have obtained and validated in silico a predictive signature composed of 11 transcripts and 3 proteins. The challenge and focus now is to move to the implementation phase of these signatures into human colorectal cancer cell lines, human samples engrafted in mouse models and patient samples from the clinical trials described before, using the cutting-edge technologies available in the health systems. Specifically, the nCounter Nanostring platform provides a simple and cost-effective solution for multiplexing the analysis of up to 800 RNA, DNA, or protein targets and thus highly convenient for our objective.
Santiago Ramón y Cajal, Javier Hernández Losa, Stefania Landolfi – Vall Hebron Research Institute, Hospital Campus Barcelona, Spain.
Josep Tabernero and Elena Élez – Vall Hebron Institute of Oncology, Hospital Campus Barcelona, Spain.
John Mariadason – Olivia Newton-John Cancer Research Institute, Melbourne, Australia.
Lauri A Aaltonen – Biomedicum Helsinki, Helsinki, Finland.
One or more research stays of 3 months will be offered at the Vall d'Hebron Research Institute in the Hospital Campus of Barcelona, which is a foundation that aims to promote, encourage and deploy tasks of quality biomedical research in basic, clinical, epidemiological and evaluation aspects of health technologies. In the proposed secondment, the research fellow will be trained and guided in the identification of microRNA-based predictors of response to regorafenib and TAS102.
Building collaborative networks
Fundraising (grants, projects)
Entrepreneurship, leadership
IRBLleida was awarded with the "HR Excellence in Research" seal of quality by the European Commission. This quality seal identifies institutions and entities committed to implementing the guidelines of "The European Charter & Code for Researchers" by improving the recruitment process and working conditions of research staff.  IRBLleida follows open, transparent and merit-based recruitment processes (OTM-R). The OTM-R is one of the main priorities of the European Research Area (ERA) and one of the key pieces of the European Charter for Researchers and the Code of Conduct for the Recruitment of Researchers. IRBLleida has developed a recruitment policy based on the principles of the OTM-R. Related information:
IRBLleida is strongly aligned with the Responsible Research and Innovation (RRI) principles. This is an approach to research that aims to anticipate and evaluate the social implications and the impact of research and innovation in society. The RRI includes the participation of citizens in the discussion of how science and technology can provide a response to the social challenges of today's society. Related information: